here follows a series of events that makes murphy look like an amateur:
it was the 31st of december 2008.
my friend that is studying medicine has had a bit of trouble with her placement for her zuma years (internship) and wasn't sure where she would be heading. there had been a lot of worrying and uncertainty, when she got a call the day before she was meant to relocate and attend orientation in kwa-zulu natal (though even this placement wasn't really secured yet), and was offered a spot right here in cape town... somewhere in her relief and excitement, she mentioned the 11th hour...
that morning we handed over the keys of our house to the landlord and then set off to my studio to pack up the last of my tools of the trade and left
these
keys for the next creative to take over my beloved studio!
i headed over to the municipality.
now that our bags are packed and we are ready to go... (how cute are these kids?) our bed, tv, fridge and washing machine all sold! ready and willing to bid this city farewell... as if handing over keys had finalised it all!
i was standing in a queue (you should know that it was the wrong queue) at the municipality just before early closing for the new year, wanting to cancel our electricity account and was chatting to this guy that was rushing to finalise paperwork for his car. it had to be completed that day or he would be fined(i should have realised
then
that i was in the wrong queue...); he joked that it was the eleventh hour and i said it sounded more like the twelfth...
i literally
was
there in my twelfth hour, for by the time i got to the right office, they were closed... i left without getting the job done (hmmm...)! this is when my husband called to tell me about this amazing job opportunity right here in cape town, really, it could be the perfect job... (this is crazy! when i figure out how my mind is coping with all this, ill write a new post dedicated to the miracle of the human brain). we are still waiting to hear of more details, so uncertainty still looms, but seriously, speaking of the eleventh hour!
murphy, are you taking notes?
ps: i apologise for my ramblings, honestly, but can you blame me!?? oh, and i hope its a happy new year... i really do! xk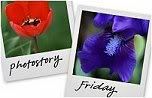 Hosted by Cecily and MamaGeek